Amsterdam, known as the Venice of the North, has more than 100 kilometers of canals, more than 1000 bridges and more than 2000 houses, part of which is in the historic center, bounded and surrounded by its 4 most famous canals: Singel, Herengracht. , Prinsengracht and Keizersgracht.
If you have little time, one of the best things to do in Amsterdam is to walk along the banks of the Singel canal and especially from Herengracht, in the Jordaan district area, where you will find the most elegant and charming houses.
In addition to crossing the bridges and having a drink on the seaside terraces, it's worth getting into a houseboat like the House Boat Museum to learn about the pros and cons of living in one of them. Continuing on your journey, you will find the famous floating flower market or Bloemenmarkt, along the banks of the Singel canal, another essential place to visit in Amsterdam.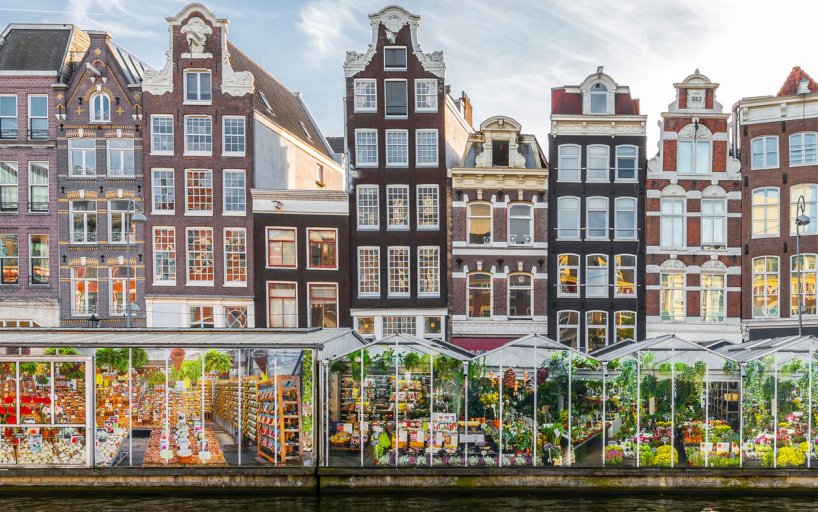 The history of this floating barge market dates back to 1883, when they used to sell containers full of flowers every day.
Please note that the Netherlands is famous for the quality of its flowers and especially for its tulips, so don't be surprised if you find a variety in this market. In addition, it is one of the most typical and original souvenirs you can take from Amsterdam. It is also important to visit the museums: one is the house of Anne Frank, on the banks of the Prinsengracht canal, in the charming district of Jordaan, one of the most amazing and must-see places in Amsterdam.
Behind this museum-turned-building, the Anne Frank family lived in hiding for two years during the Nazi occupation of the city during World War II. In that confinement, Anne Frank wrote her famous diary, which was later published by her father. The other is the Van Gogh Museum, which houses the largest collection of the great Dutch painters, and is one of the most interesting places to visit in Amsterdam.
Inside this museum you will find more than 200 paintings and 400 drawings, from different periods, by one of the greatest painters in history, including "Bedroom of Arles", "Potato Eaters" or "Los sunflowers". Amsterdam also has an important square, one of the best places to see in Amsterdam. The next stop on the route is Leidseplein.
In addition to trying out Dutch home cooking at The Pantry and Stoop & Stoop Eetcafe, one of the experiences this plaza offers is joining the Reijnders, one of Amsterdam's most popular brown cafes (bruine cafes). Typical and must-try local foods include chips, stroopwafle, poffertjes, cheeses, stamppot or tompouce.