As the history books make clear, there are many must-see destinations in Rome, but it will be impossible for us to visit them all. These are the most important and not to be missed:
To start, we will visit Fontana Di Trevi. It is considered by many to be the most beautiful fountain in the world, making it a tourist destination. Therefore, it is best to visit in the early hours of the morning or evening. Don't forget to throw a coin back to the fountain. This will ensure that you have good luck in love and that you will return to Rome.
Continuing with the journey, it is essential to see the Colosseum. Nowadays, you can go inside and enjoy the views. Tickets are required for this and it is advisable to book in advance, as it is difficult to get through the queue.
Piazza Navona is the most beautiful square in the city with three baroque fountains: La del Moro, La del Nettuno and four rivers. The latter is the most spectacular and represents the four most important rivers of the moment: the Ganges, the Danube, the Nile and the Silver River. A visit to the Pantheon of Agrippa is also a must. This building was completed in 125 (after Christ) and is considered the best-preserved building in the Roman Empire. A visit to the Spanish Steps or Piazza di Spagna is a must. It is located at the bottom of the church of Trinita de Monti next to the elegant long stairs leading up there. It has a spectacular fountain in the center, the Barcaccia fountain. Its views are breathtaking.
Visiting the churches of Rome would also be important to consider the most important places of the trip, such as St. Peter's Basilica (Vatican), St. John Lateran Basilica (Vatican), St. Paul Fuori le Mura and finally the Church of Santa Maria Maggiore.
Continuing with the trip, we would recommend visiting St. Peter's Square. To begin with, because of its unique visibility.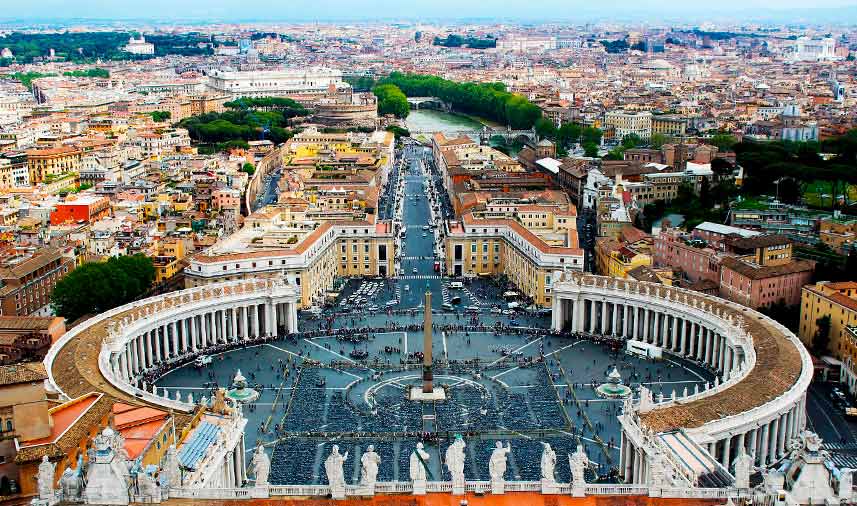 In order to get a full tour of Rome, it is important not only to visit the monuments but also the streets. El Trastevere is one of the most important streets with many beautiful corners, artisan shops and several bohemian bars. Walking through these streets in the evening would be a good idea to end the day in a roundabout way with local food at a local Italian restaurant. Some examples of Italian food would be pizza, pasta, ice cream, calzone, lasagna, caprese salad or tiramisu.